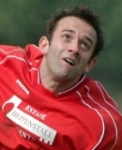 26 - MAR - CBC PREMIER - Redmires keep Knagging away in the title chase - Goals from Dave Knaggs (left) and Jon Wall saw Redmires win at Wadsley Bridge Pheasant to keep up the chase for the title, while Norton Oaks A won at Civil Sports A.
DIVISION 1 - Penistone pip Legion to become title favourites as Woodseats are held by Killamarsh - A Lewis Dickinson double helped Penistone Curch win a real thriller at promotion rivals Chapeltown RBL to make Church title favourites after Woodseats Club failed to win for a fifth league game when they were held by third place Killamarsh Juniors.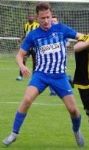 DIVISION 2 - Phillips treble stuns View, as Sportsman leave Village looking over their shoulders - Second place Cobden View's five match unbeaten run was brought to an end as Jed Phillips (right) plundered a hat-trick for fourth place Civil Sports B, who could now claim an automatic promotion place after third place Woodhouse Village were beaten by leaders Norton Sportsman. Fifth place Norton Oaks B put distance between themselves and the teams below them with victory at Colley, while Steelers slumped to a second successive defeat at Woodseats Chantrey and The Shakey won at Woodhouse JFC.
23-MAR - DIVISION 1 - Council treble lifts Church - Tim Council grabbed a hat-trick to take his season's League tally to 22 as Penistone Church went fourth with a 5-0 victory over Ecclesfield Players Lounge. Mitch Savage and Lewis Dickinson got the others with all five goals coming in the first half hour.
9 MAR - April Fixtures now listed - The Fixtures for April are now listed in the Fixtures section.
All home teams MUST make sure that their home pitch is available on all the dates shown. Please email Keith immediately if your pitch is not available on a date shown.
All home clubs must also confirm the details with your referees and opponents for all dates shown IMMEDIATELY. The home clubs should later (5 days before the game) ring the referee to make sure the referee has got all the details. Please email Keith immediately if any of the referees tell you they cannot do the fixture listed.
Matches without referees must still go ahead and, if you have not been allocated a referee by the date of the game, the two clubs must agree on a stand-in 'referee' between them. Keith will still be working to gain more referees, so if you find one yourself, will you let Keith know immediately please.
PLEASE NOTE THAT WE WILL NOT ACCEPT ANY FURTHER REQUESTS FROM TEAMS TO NOT PLAY ON ANY DATES FROM NOW UNTIL THE SEASON ENDS. ONLY THE ONES WE HAVE ALREADY WILL BE HONOURED.
24 FEB - Deadline date for the signing of new players extended to 19 March - The League has decided that it will extend it's deadline for signing players to 19 March 2017. If a club wants to sign a player after that date, they must first get permission from the League.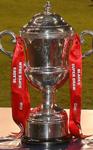 11 JAN - LEAGUE TWENTYTWO CUP - Semi-Final made draw 'Live' on Radio Sheffield - The draw for the Blades Super Draw League Twentytwo Cup semi-finals, made live on Radio Sheffield by Football Heaven's Andy Giddings, produced the potential for either an all-CBC Premier final, or an all-Division One final - and should that happen it would be only the second time in League history. The full draw is CBC Premier FC Handsworth Turf v Division One Woodseats Club and CBC Premier Norton Oaks A v Penistone Church. Both ties will be at the HSBC Sports Ground on Sunday 2 April and both will kick-off at 11am.
Click here for full detail of last Sunday's games and a preview of next weekend