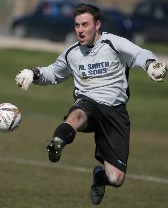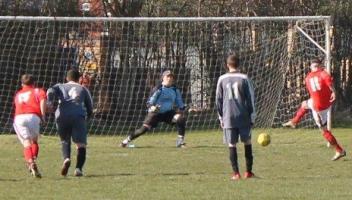 9 Mar 2014 - CBC PREM - Stannington leave it late to go top, but The Vine's progress stalled late goal - Stannington Village look strong favourites to retain their title after late goals beat previous leaders Civil Service. Worse still for Service was that keeper Carl Whitby (left) suffered a broken leg early in the game - everyone wishes him a speedy recovery. The Vine looked to be collecting all three points until Mitchell Savage scored an unlikely equaliser for Stocksbridge Park Steels direct from a corner. The Park's title chances look to be over after they twice lost the lead before losing to a Handsworth Old Boys now eight points clear of the relegation zone and Handsworth Turf helped their chances by beating bottom club Hemsworth Villa - right is Perry Jackson scoring Turf's first from the penalty spot
DIV 1 - Fletcher slices through Brinsworth, while Lounge back into the top three - Tom Fletcher (right) hit a hat-trick as Oughtibridge WM sliced Brinsworth Whitehill's perfect home record to ribbons to go six points clear at t

he top, while an Alex Evison header gave Players Lounge Athletic victory at Cobden View and a place back in the top three. A Callum Chambers double helped Old Blue Ball end Anston Athletic's run of victories and further improve Ball's promotion chances. A Jon Rhodes treble helped Loxley to their second win of the season at Southey Social's expense.
DIV 2 - The Andrews brothers help The Pheasant widen the gap at the top, while Sharrow hit back for second win - A Carl Andrews treble and one from his brother Shane helped The Pheasant to victory over Chapeltown RBL to go five points clear at the top, Sharrow Vale came from behind to get their second win of the season at FC Spartak's expense.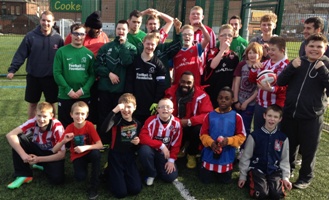 28 Feb 2014 - Blades invite the Spartans - Spartans players were invited by SUFC Community Foundation Disability Group to a training session with some of their players and others from the Derek Dooley Academy at the U Mix centre prior to last Saturday's match . All the players with families and friends were also invited to the match versus Bristol City, where they saw the Blades win 3-0.
27 Feb 2014 - Pen Nook fold - Pen Nook have decided to fold and will leave the League. All their points and goals will be removed from the tables etc, as will any goals scored against them.
22 Feb 2014 - The Fixtures and Referees for MARCH & APRIL are now shown - Home teams MUST make sure that their home pitch is available on all the dates shown. Please email Keith immediately if your pitch is not available on a date shown.
All home clubs must also confirm the details with your opponents and referees for all dates shown IMMEDIATELY.
Please email Keith immediately if any of the referees tell you they cannot do the fixture listed.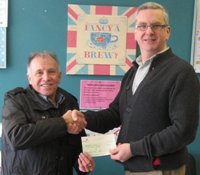 16 Feb 2014 - Villa get help from Gleadless Valley Community - The Gleadless Valley Community Forum has helped it oldest local team, Hemsworth Villa, pay for its pitch to the end of the season. Pictured with Hemsworth Villa secretary Mick Moat is the Forums general manager Steve Rundell who kindly listened to Villa's request for help and secured the funds for them.
13 Feb 2014 - TAYLOR&EMMET SUNDAY JUNIOR CUP - All Blades Super Draw final possible - The draw for the semi finals of the Taylor&emmet Sunday Junior Cup saw the two Blades Super Draw teams avoid each other, making an all Blades Super Draw Final a possibility. The draw was The Pheasant v Ardsley Oaks; Sportsman New Boys or Woodhouse Junior v Southey Social
2 Feb 2014 - Owen tops the charts - With his goal today, Steelers striker Blake Owen (right) went to the top of the twentytwo sponsored Leading Scorer table with

nineteen Division Two goals, one more than the CBC Premier's leading scorer, The Vine's Matt Ellis and Division Two's Matt Cowen of Crookes & District, while just two behind them is another from Division Two, Jan Horvath of FC Spartak. Two more behind him is Ecclesfield Players Lounge's leading scorer, Craig Senior.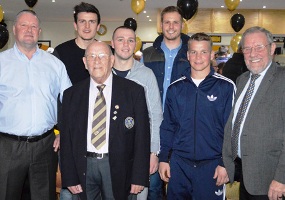 28 Jan 2014 - Vote for Handsworth - The Back in November 2013 it was announced that Handsworth Junior Sporting Club would be one of just eight grass roots clubs from around England, to receive a £50,000 grant as part of the BUDWEISER football grant programme CLUB FUTURES PROGRAMME. Added to this was that Handsworth JFC, along with the other 7 clubs could be in with a chance of winning an additional £100,000 Super Grant topping up their funding to a total of £150,000 ….. but only 1 of the eight clubs can secure this additional money.
Handsworth Old Boys forms part of the Handsworth Junior Sprting Club and we can help Handsworth make sure they win that extra funding by casting your vote on Facebook. So we need you and all your friends and Facebook contacts to VOTE for HANDSWORTH JFC. The initial £50,000 grant is already earmarked by Handsworth JFC, whose first team currently plays in the Pete's Patisserie County Senior League Premier Division, to replace their grandstand and allow other developments within the ground to take place. An additional £100,00 would transform the club and allow it to develop facilities that can be used by the football club and its 27 teams, but the local and wider community.
Each of the 8 grass roots clubs produced a 2 minute video to promote why they should be chosen to receive the additional funding and last night at the club Handsworth JFC launched their bid. John Ward, Chairman of Handsworth JFC said: "We would like to ask all our friends in the County FA area and beyond to go on Facebook and vote for Handsworth. If we can keep this extra funding in our area, it will be fantastic for the people in the community in and around Sheffield and of course, Handsworth in particular". John added, "I would like to sincerely thank everyone at the club for their efforts in putting the bid together and of course preparing the video, it is much appreciated."
Sheffield United's Harry Maguire and Sheffield Wednesday's Aaron Jameson came along to the launch to support the bid, along with Richard Caborn, Sheffield's former government Sports Minister, Adam Etches and Scott Jenkins from Sheffield's boxing fraternity, and Alf Goodison, Vice President of Sheffield & Hallamshire County FA and Chairman of the County Senior League.
The League urges all it's players, supporters and followers to VOTE for HANDSWORTH. So your next step is to go to your Facebook page, go to Budweiser Club Futures, "like" the page, then click on the Handsworth badge add your name as it is only one vote per person and tick the top box to place your vote….. and don't forget to make sure your Facebook friends place their vote too! or go direct with this link https://www.facebook.com/BudweiserUK?sk=app_100180143470548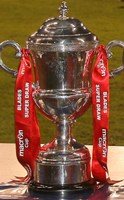 28 Jan 2014 - MACRON CUP - Semi final draw sees a repeat of the 2012 final - The draw for the semi finals of the Macron Cup was made at Bramall Lane yesterday evening by Blades Super Draw's Mick Rooker and Pete Stone and it saw a repeat of the 2012 final with The Park meet Civil Service. The other semi final sees last season's beaten finalists Ecclesfield Players Lounge face the League's oldest club Redmires, who will be trying to reach their first ever Macron Cup Final. Both ties will be played at the HSBC Sports Ground, Dore on 30 March, kick-off at 11.00am. The full draw is Ecclesfield Players Lounge v Redmires, The Park v Civil Service. The final will be at Bramall Lane at the end of the season.
23 Dec 2013 - February fixtures & referees now listed - The fixtures and referees for February are now listed in Latest Fixtures. Clubs should confirm all their home games with the referees and opponents IMMEDIATELY.