24-JULY - Clubs should now register their players - Player Registrations using The FA Whole Game System has been available to all our teams for 8 days now, so all clubs should be getting on with registering their players. Please follow the instructions our secretary Paul Heath sent to you.
24-JULY - 2017-18 fixtures - The County FA postponed the meeting to establish the Fixtures grid and we are still awaiting a new date for it. Meanwhile, any club wanting to have no fixture on a particular date should email Keith ASAP, particularly for any dates in September. We are aware that many, if not all clubs may want no game on Sunday 24 September when the Sheffield derby will be played at Hillsborough, but they must ask Keith before the September fixtures are published.
25-JUNE - Pitch available for Summer friendlies - The Sport Sheffield/Goodwin Sports Centre 11-a-side Summer Pitch Offer is NOW AVAILABLE!
At Sport Sheffield they understand the need to get back into pre-season nice and early and that is why they are running a special offer to all 11-a-side football teams between now and the 27th August 2018 They have opened up space on their outstanding 3G facilities on Sunday mornings between 11am-1pm for you to use at the discounted price of just £80. If you would like to take advantage of this offer than please either call their Bookings & Events team on 0114 222 6955 or email bookings@sport-sheffield.com and quote SUMMER11ís
Don't forget, any clubs playing friendlies anywhere must be affiliated with their County FA and have insurance.
31-MAY - Seven teams join the League for the 2017-18 season - The League is pleased to announce that seven teams will join the League for the 2017-18 season. They include the Meadowhall Premier champions, Crookes and the Sheffield Imperial Premier champions, Forum. Also from the Meadowhall Premier is Royal Earl and Mosborough Reds, and they are joined by Meadowhall Division 1 champions Mosborough Whites. A second Imperial League team, Boynton Sports also join us along with a completely new team, Wadsley Horse & Jockey. All will start in what must be the strongest Division 2 in League history. There is four of our existing teams that are folding - Woodhouse Angel, City Taxis, Ecclesfield Players Lounge and Dale WMC - and we thank them for their participation in the League.
31-MAY - League Honours for the 2016-17 season - The full list of honours for the 2016-17 season is as follows:
CBC Premier: Champions: Stannington Village; Runners-up: Redmires; Leading Scorer: Alex Torr (Stannington Village) 34
Division 1: Champions: Penistone Church; Runners-up: Woodseats Club; Leading Scorer: Tim Council (Penistone Church) 25
Division 2: Champions: Norton Sportsman; Runners-up: Cobden View; Leading Scorer: Brad Bowland (Norton Sportsman) 36
twentytwo League Cup: Winners: FC Handsworth Turf; Runners-up: Norton Oaks A; Man of the Match: Ryan Goodinson (FC Handsworth Turf)
Steve Gee Merit Cup: Winners: Brinsworth Phoenix; Runners-up: Ecclesfield Players Lounge
County FA Sunday Junior Cup (sponsored by Danwood): Winners: Woodseats Club; Runners-up: Chapeltown RBL
8 MAY - LEAGUE TWENTYTWO CUP - More Cup Final Pictures added - see Latest News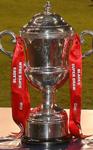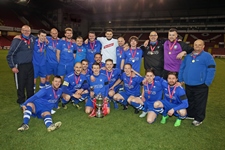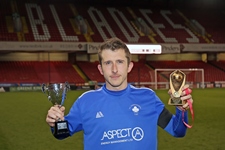 4 MAY - LEAGUE TWENTYTWO CUP - Turf too Good for Oaks - A crowd in excess of 600 saw FC Handsworth Turf (far left) lift the League twentytwo Cup for a second time as two goals from James Leesley helped clinch a 4-0 victory over fellow CBC Premier side Norton Oaks A at Bramall Lane. Leesley was still pipped to the Sheffield Trophy Centre Man of the Match Award by Ryan Goodinson (left) after he set up the first two goals with inch perfect crosses for Leesley and Russell Hobson to score with terrific headers. The second half saw Leesley put through to add his second and the victory was completed by a Ben Shackshaft tap-in late in the game.
Click here for full detail of last Sunday's games and a preview of next weekend