23-Jan 2015 – Fixtures and referees for February now listed - The Fixtures and Referees for FEBRUARY are now shown - Home teams MUST make sure that their home pitch is available on all the dates shown. Please email Keith immediately if your pitch is not available on a date shown. All home clubs must also confirm the details with your opponents and referees for all dates shown IMMEDIATELY. Please email Keith immediately if any of the referees tell you they cannot do the fixture listed. All Fixtures on 15 February are subject to change as that is a County FA Sunday Cups date, but Fixtures on other dates in February could also be subject to change due to delayed County FA Cup ties, particularly games involving Redmires, Handsworth Turf, Fox & Hounds Rangers and Hallam FC. This means that teams currently shown as SPARE in the fixtures might be able to play a game on the date they are spare if there has to be a change due to a County FA Cup tie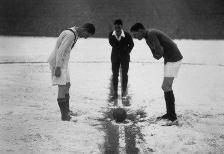 18-Jan 2015 – Most games frozen off - Just two games went ahead this weekend as the severe overnight frosts made virtually all pitches unplayable. All the CBC Premier games were off and just one game each in Divisions 1 and 2 went ahead.
DIVISION 1 - Southey now on their Todd at the top - Two goals from Todd Guest helped Southey go three points clear at the top of Division One.
DIVISION 2 - Phoenix flying as they ruin Colley's record – Unbeaten Phoenix also opened up a three point gap at the top of Division Two as two goals each for Kieran Cull and Bradley Clarke maintained their perfect away record and brought an end to Colley's perfect home record
JUNIOR SUNDAY CUP - Fox & Hounds and Handsworth Turf will have to try again - Both Fox & Hounds Rangers and Handsworth Turf had their cup ties postponed, so both will have to try again next weekend.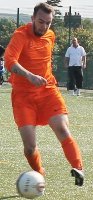 11-Jan 2015 - Howsham extends his lead at the top of the scoring charts - Division Two Hallam FC's Joe Howsham (left) extended his lead at the top of the goalscoring charts with Sunday's hat-trick taking him to 21 goals. Chris Fowler of Colley is second on 13 goals, while Jordan Marshall is third on 12 goals. Also on 12 is Division One's leading scorer, Southey Social's John Mellor, while Stocksbridge Park Steels Scott Birch remains as the CBC Premier's top scorer on 9.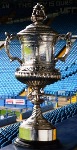 30-Nov 2014 - Sunday Cup Draws - The County FA Sunday Cup draws have been made and one of the ties of Round 5 of the Sunday Senior Cup sees Redmires have a home tie with the Imperial League's Bagshaw Arms that put out Civil Service in the last round. The Vine also has a big tie as they entertain Meadowhall Premeir side Royal Earl. In the Sunday Junior Cup, Division Two City Taxis will entertain Manor Hotel, while Handsworth Turf have a trip to Comrades. Most ties will be played on 21 December, but we also have three more teams, Fox & Hounds Rangers, Hallam FC and Intake Old Boys, still in the Junior Sunday Cup and their ties aren't likely to be played until the new year as their ties are dependent on delayed ties in earlier rounds, although Hallam will be at home to Fox & Hounds Rangers if Fox win their Round 4 tie.
These games will cause some league games on 21 December to be amended and some alternative fixtures will be arranged to enable as many teams as possible to play, so keep an eye on the fixtures.
25-Nov 2014 - The Park is on the look out for more players - CBC Premier Division The Park, which plays its home games at the excellent Niagara Sports Ground and has an excellent committee to support the team, are in need of more players and anyone interested in joining them, or would like more information, should contact Andy Chafer on 0782 888 3531.
13-Nov 2014 - Anyone interested in a pre-season friendly in London - An ex-Blades Super Draw League manager who is now managing a team in London is looking to see if any Blades Super Draw League teams are interested in a trip to London pre-season next year for a friendly / pre-season tournament. Any club interested should contact Paul-Baxter Gibson on 0114 230 8220, or 0794 635 3317, or by email: paul.baxter-gibson@sky.com. Don't forget that if you do take up the opportunity, you must gain permission from the Sheffield & Hallamshire County FA when you know the details of any game(s) and you must ensure that both you and your opponents are affiliated to your respective County FAs and are insured.
22-Sept 2014 - County FA new phone number - The Sheffield & Hallamshire County FA now has a new phone number - 0114 261 5500