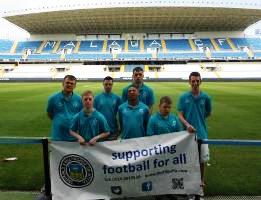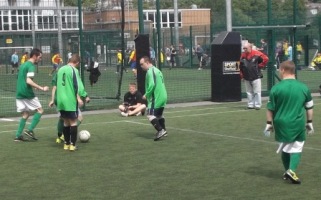 21 June - Spartans in Spain & Spartans Tournament - The Spartans made their first ever club trip abroad to play in Spain. They had a training session with their Estepona opponents before playing a match against them. The Spartans also made a visit to the Malaga Stadium and later saw Malaga entertain Seville in La Liga, with Seville winning a thriller 3-2. The trip, made possible with the help of the Sheffield & Hallamshire County FA, the Special Olympics organisation and the Blades Super Draw League, was a fantastic experience for the Spartans. Pictured left are some of the Spartans at Malaga Stadium.
That was closely followed by the Spartans 2015 Tournament which featured 20 teams. In addition to the Spartans, there was teams from Merseyside, Cheshire, Harrogate, Pontefract, Barnsley, Thorne, Doncaster City Knights, Norfolk Lodge Lions and Sheffield Wednesday. Pictured right is the Spartans in action against Barnsley.
18 May - Clubs can now affiliate with the County FA for the 2015-16 season - From Monday 18 May evening, clubs who were registered for the 2014/15 season will be able to affiliate online for the forthcoming 2015/2016 season using the Whole Game System. Whole Game System can now be used by Club Secretaries to affiliate their club, removing the need to work through the paper based process in order to complete affiliation. Click on the following link for more detail and help with the process: http://www.sheffieldfa.com/news/2015/may/club-affiliations-are-now-available-for-next-season#JAkDykfz3tDu2zeI.99.
18 May - Fancy becoming a Referee? - Anyone interested in becoming a referee can now register their interest with the County FA. There are Basic Referees courses available at Barnsley College on 8 June, 10 August and 12 October and at Gosforth Playing Fields, Dronfield on 8 July. More details can be found in the Courses section of the Sheffield & Hallamshire County FA website, www.sheffieldfa.com.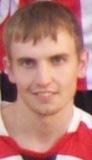 17 May - DIVISION 1 - George is Ruddy good as Hare & Hounds end the season on a high - George Rudd (left) scored twice as Hare & Hounds won the final game of the season, 3-1 against Loxley, for a win that saw Hounds climb to a season high position of third from bottom to ensure they will once again be playing Division One football next season. Hounds needed just one point from this game to overhaul Ranch and although Loxley's Mick Smith skyed four decent chances early on, victory for Hounds always looked on when top scorer George Rudd fired in a quite superb opener on twenty two minutes. Strike partner Stef Rankine chested the ball down on the edge of the area for Rudd to swivel and hit a left foot half volley high into the Loxley net. Loxley's attackers were restricted to half-chances and both Tom Storey and Anthony Marshall shots looked more likely to threaten low flying aircraft rather than the Hounds goal.
Hounds took advantage to extend their lead mid-way through the second half, with Rudd threading the ball through a flat back four for Stefan Rankine to poke home. Rankine senior was between the posts and he was forced into two athletic saves - one high and one low to his left - before Hounds sealed the win towards the end. This time Stef Rankine fed Rudd who poked the ball beneath the despairing keeper and beyond the reach of the lunging last defender. Loxley grabbed a goal back with a minute to go, when a ball was driven hard and low into the crowded box and it hit Jon Rhodes before it looped into the net Man-of-the-match for Hounds was skipper Daz Mitchell, whose tireless and combative display was an inspiration to those round him, and evidence of Hare's determination to stay up, while Loxley skipper Tim Pitt was Loxley's top performer. Ranch shouldn't worry too much as it looks fairly certain that only the bottom club, Dam House Bar, will be relegated.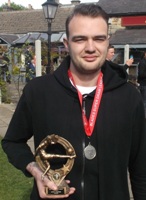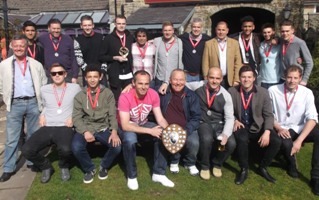 3 May - DIVISION 2 - Hallam FC receive the Division 2 Runner-up Award & Joe Howsham takes the Leading Scorer Award - Hallam FC receive the Division 2 Runner-up Award & Hallam FC's Joe Howsham takes the Leading Scorer Award - see pictures right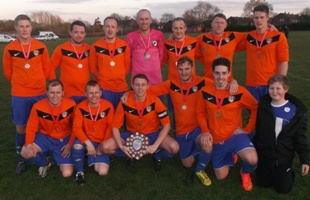 30-Apr - CBC PREMIER - Oughtibridge lose thriller at Civil, so Redmires are Runners-up, while Stannington win - Oughtibridge WM's chances of landing the Runner-up spot ended with a defeat in a sensational eleven goal thriller at Civil Service. The result means that barring a 22 goal defeat against Oughtibridge on Sunday, Redmires will be the League Runner-up for a second time. Brinsworth Whitehill finished second bottom after a home defeat by new Champions Stannington Village.
DIVISION 1 - Bingley Brace rubber-stamps Runner-up spot for The Pheasant - Scott Bingley netted his first two goals of the season as The Pheasant (left) rubber-stamped their Division One Runner-up spot with victory at a Hare & Hounds. The defeat means that Hounds must now must get at least four points from its two remaining games to avoid finishing in the bottom two.
29-Apr 2015 – KITLOCKER CUP - More pictures from the Kitlocker Cup Final at Bramall Lane - Mini versions of pictures from the League Kitlocker Cup Final at Bramall Lane have been added to the Latest News and April News.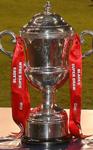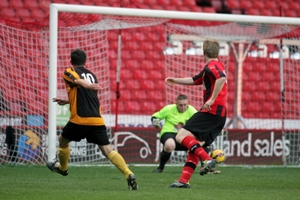 26-Apr 2015 – KITLOCKER CUP - Fletcher slices through Stannington to give the Cup to Oughtibridge - Two first half goals by the Sheffield Trophy Centre Man of the Match Tom Fletcher (right scoring his second) saw Oughtibridge WM beat new League champions Stannington Village and stop them completing the double.
CBC PREMIER - Second place is Taylor made for Redmires, while the keeper Burgin scores Angels winner! - Redmires came back from two down to beat Stocksbridge Park Steels to go second, while keeper Greg Burgin was Woodhouse Angel's unlikely match winner when his long punt deceived the Civil Service keeper and went straight in.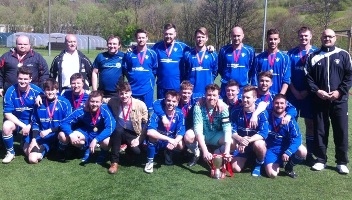 DIVISION 1 - Shackshaft treble helps Turf land the title, while Hounds edge towards safety - A Ben Shackshaft's hat-trick helped Handsworth Turf come from a goal down against Norton Oaks A to clinch the title, while Hare & Hounds chances of escaping the drop was helped by a point from a draw with Intake Old Boys.
DIVISION 2 - A Jordan Marshall treble sees Taxis up to second as Hallam are held – A Jordan Marshall hat-trick helped City Taxis to victory at Sharrow Vale to go second as their rivals for the Runners-Up spot, Hallam were held by new champions Phoenix. Chapeltown RBL finished fifth after a Keenan Gibson double helped them complete their season with victory over Fox & Hounds Rangers.

23-April 2015 – CBC PREMIER - Bath sinks Civil as Redmires get set for Runners-Up spot - Andy Bath (right) scored the clinching goal against his former club as Redmires beat Civil Service 3-0 to climb into the CBC Premier Runners-Up spot. Redmires opener came when Jon Wall picked out Mikey Taylor at the far post in the first half and after the break, Matt Reay doubled their lead with a towering header from a Wall free kick. Wall was again involved when he combined with Taylor to set up former Civil striker Bath to round things off with a contender for the goal of the season with a left foot volley into the top corner.
DIVISION 2 - Colley stalemate guarantees them fourth place – Colley played out a goalless draw with Fox & Hounds Rangers, but the point was enough to guarantee that Colley will finish fourth and they will now have to wait to see if there will be any more than the three automatic promotion places.
13-Nov 2014 - Anyone interested in a pre-season friendly in London - An ex-Blades Super Draw League manager who is now managing a team in London is looking to see if any Blades Super Draw League teams are interested in a trip to London pre-season next year for a friendly / pre-season tournament. Any club interested should contact Paul-Baxter Gibson on 0114 230 8220, or 0794 635 3317, or by email: paul.baxter-gibson@sky.com. Don't forget that if you do take up the opportunity, you must gain permission from the Sheffield & Hallamshire County FA when you know the details of any game(s) and you must ensure that both you and your opponents are affiliated to your respective County FAs and are insured.
22-Sept 2014 - County FA new phone number - The Sheffield & Hallamshire County FA now has a new phone number - 0114 261 5500
Click here for full detail of last Sunday's games and a preview of next weekend