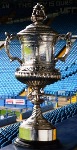 21-Nov 2014 - Sunday Cup Draws - The County FA Sunday Cup draws have been made and one of the ties of Round 5 of the Sunday Senior Cup sees Redmires have a potential home tie with fellow Blades Super Draw CBC Premier side Civil Service, providing Civil Service win their delayed Round 4 tie at Bagshaw Arms this coming weekend. The Vine also has a big tie as they entertain Meadowhall Premeir side Royal Earl. In the Sunday Junior Cup, Division Two City Taxis will entertain Manor Hotel, while Handsworth Turf have a trip to Comrades. Most ties will be played on 21 December, but we also have three more teams, Fox & Hounds Rangers, Hallam FC and Intake Old Boys, still in the Junior Sunday Cup and their ties aren't likely to be played until the new year as their ties are dependent on delayed ties in earlier rounds, although Hallam will be at home to Fox & Hounds Rangers if Fox win their Round 4 tie. Intake Old Boys win their Round 4 tie they will be away at Upton Wrangbrook.
These games will cause some league games on 21 December to be amended and some alternative fixtures will be arranged to enable as many teams as possible to play, so keep an eye on the fixtures.
19-Nov 2014 - Fixtures for December now shown - The Fixtures for December now shown in the Fixtures section. Home teams MUST make sure that their home pitch is available on all the dates shown. Please email Keith immediately if your pitch is not available on a date shown. All home clubs must also confirm the details with your opponents and referees straight away. Fixtures on 21 December are subject to change as that is a County FA Sunday Cups date. Referees for 21 December will be added once they have been allocated to the leagues by the County FA.
16-Nov 2014 - SENIOR SUNDAY CUP - Redmires arrest Crookes and Matt Ellis is Sprot on for The Vine - Ben Grainey set Redmires on the way to victory over Meadowhall Premier Crookes, while a Matt Ellis double helped The Vine overcome Sprotbrough after extra time. Civil Services tie at Bagshaw Arms was postponed.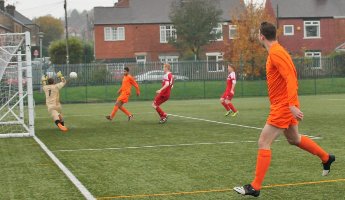 JUNIOR SUNDAY CUP - Holders go out but three go through - Holders The Pheasant were beaten at home by Monkwood and both Phoenix and Norton Oaks A also went out, but an Addie Gadour double 9seen scoring his first right) helped Hallam into the last 16 and a Ben Shackshaft double helped Handsworth Turf join them. Also through is City Taxis after their victory at Carlton Park Hotel
CBC PREMIER - A Flynn double puts Stannington back on top, while Oughtibridge and Angel join the chase - A Shaun Flynn double took Stannington Village to victory over Stocksbridge Park Steels and back to the top of the CBC Premier, while a Danny Clinton double helped Oughtibridge Village to victory over Riverside and up to third. A point behind them in fifth is Woodhouse Angel after their victory over Bulls Head, while Brinsworth Whitehill's remarkable home form continued as Ross Johnson and Danny Willis double helped them to victory over The Park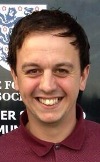 DIVISION 1 - Four goal Hobson keeps Intake on the heels of the leaders, while Loxley join the promotion race - Russell Hobson (left) hit four goals as Intake Old Boys won a thriller at Ranch to stay second in Division One, but Southey Social stay top after a narrow victory over Hare & Hounds, while up to third is Loxley after a Callum MacRury goal gave them victory at Dam House Bar.
DIVISION 2 - Steelers held, while Colley up to fourth – Despite a Blake Owen treble, Steelers missed the chance to go a point behind the Division Two leaders as they were held by a Cobden View helped by a Mike Walker double, and Chapeltown RBL also dropped points despite Ben Palmer's double as they were held by a Norton Oaks B boosted by Ste Reynalds' double. Those results allowed Colley to climb to fourth as Chris Fowler and Matt Meaney doubles helped them to a comfortable victory at Crookes & District, while Fox & Hounds Ranges also won at home against Sharrow Vale.
13-Nov 2014 - Anyone interested in a pre-season friendly in London - An ex-Blades Super Draw League manager who is now managing a team in London is looking to see if any Blades Super Draw League teams are interested in a trip to London pre-season next year for a friendly / pre-season tournament. Any club interested should contact Paul-Baxter Gibson on 0114 230 8220, or 0794 635 3317, or by email: paul.baxter-gibson@sky.com. Don't forget that if you do take up the opportunity, you must gain permission from the Sheffield & Hallamshire County FA when you know the details of any game(s) and you must ensure that both you and your opponents are affiliated to your respective County FAs and are insured.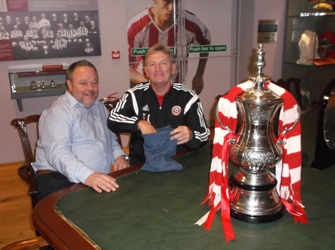 3-Nov 2014 - KITLOCKER CUP - Blades Legend TC makes Quarter Final draw - The Blades legend recently voted the club's greatest ever player, Tony Currie, assisted by Blades historian and Supporter Liaison Officer John Garrett (pictured right), made the League Kitlocker Cup Quarter Final draw in the Legends of the Lane at Bramall Lane today and it saw the holders Redmires drawn away at fellow CBC Premier side Brinsworth Whitehill after their surprise win over League leaders Civil Service. Another definite all CBC Premier tie sees Bulls Head travel to Oughtibridge WM, while a potential third sees League champions Stannington Village drawn away at The Vine if they overcome Division One Southey Social in their Round 3 tie this coming weekend. It means that their will be at least one non-CBC Premier team in the Semi Finals as Division Two newcomers Hallam FC have a home tie with the winners of this coming weekend's all Division One Round 3 tie between Ranch and Norton Oaks 'A'. The full draw is: Brinsworth Whitehill v Redmires; Hallam FC v Ranch or Norton Oaks 'A'; Oughtibridge WM v Bulls Head; Southey Social or The Vine v Stannington Village. All quarter final ties to be played on 7 December, kick-off at 11am.
27-Oct 2014 - Referees for November now added to website - The referees allocated to us by the County FA have now been added to the Fixtures section - will the home teams for the whole of the month please contact the appointed referees immediately. Let Keith know if any problems. Where the website shows TBA rather than a referees name, Keith will notify the teams when he has managed to get more referees. Due to Sunday Cup ties, referees for 16 Nov won't be known until they have been released by the County FA much nearer the date.
27-Oct 2014 - Fixture changes on 16 & 30 November - Due to clubs remaining in the County FA, there are several fixture changes on 16 November which has also meant I have had to alter some fixtures on 30 November. The changes are shown in the Fixtures section - Will all clubs please take note. There could be more changes when the County FA Cup draws are known - watch this space. We are still awaiting our referee allocation for November from the County FA - they will be added when known.
22-Sept 2014 - County FA new phone number - The Sheffield & Hallamshire County FA now has a new phone number - 0114 261 5500