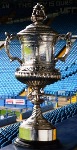 25 Nov – SUNDAY JUNIOR CUP ROUND 5 -- Intake Old Boys & City Taxis both get home ties, but Devonshire are away - The draw for Round Five of the Sunday Junior Cup saw both Intake Old Boys and City Taxis get home draws, but Devonshire are away at Three Magpies. Intake's tie could potentially see them face fellow Division One side Loxley, if they win their Round Four tie at Swallownest MW, while City Taxis will play host to the Meadowhall League's Players Lounge Athletic. The City Taxis and Devonshire ties are scheduled for 20 December, but the Intake Old Boys tie is likely to be played in the New Year.
23 Nov – SUNDAY SENIOR CUP QUARTER FINAL -- FC Handsworth Turf to face The Vine - The Quarter Final draw of the Sunday Senior Cup has seen our two remaining clubs drawn against each other at Hillsborough College on 20 December. The only consolation is that it means that the League will definitely have a semi finalist for a second successive season. The full draw is: Royal Earl v Westville; FC Handsworth Turf v The Vine; Wombwell Main v Plough (Greasbrough); Fitzwilliam Arms v High Noon.
23 Nov - Howsham & Blythen top the Leading Scorer charts - The Twentytwo Leading Scorer charts for the season have been updated and last season's top scorer, Division One Hallam's Joe Howsham is once again in front on 17 goals, but just one behind him on 16 is Division Two AFC George's leading marksman Michael Blythen. At the top of the CBC Premier scorers is Redmires' Jon Wall. See the Leading Goalscorers in the Results section for a full list of each team's Leading Scorer.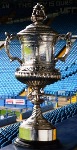 15-Nov 2015 – SUNDAY JUNIOR CUP ROUND 4 - Aston let it slip, but Loxley will have to try again - Despite Ross Edwards, David Sills and Ian Draper giving Aston Swallownest an early three goal lead at Balby Athletic, Aston switched off after that and crashed out of the Sunday Junior Cup 6-4. Loxley's tie at Swallownest MW was postponed for a second week and they will have to try again next weekend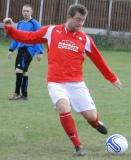 CBC PREMIER - Redmires go top, but the Crosby show sees The Vine slip up, while Sampson's last gasp strike saves Oughtibridge - Jon Wall scored twice as Redmires defeated Southey Social to go top of the CBC Premier, but The Vine missed the chance to go second after a Tom Crosby penalty gave FC Handsworth Turf the points. Crosby (right) also kept a clean sheet after taking over in goal when keeper Liam Richardson had to go off injured. Strachan Sampson hit a last-gasp equaliser against a Brinsworth Whitehill that had led after a Joe McGuiness double.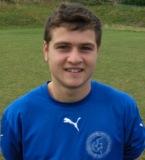 DIVISION 1 - Whittington treble lifts Ecclesfield, but Intake are held by Legion - Scott Whittington (left) scored a hat-trick as Ecclesfield Players Lounge climbed into the Division One promotion race with victory over Ranch, but Intake Old Boys let two points slip in a draw at Chapeltown RBL.
DIVISION 2 -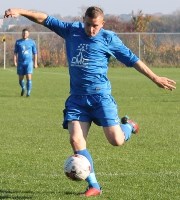 Adams & Council lead the way for Church, while Owen stunner keeps Devonshire on course and White-out hits Crookes - After both scored hat-tricks for Penistone Church in the County Senior League the day before, Tom Adams and Tim Council did it again on Sunday to help Penistone to increase their lead at the top of Division Two with victory over Laycock Sports. Second place Killamarsh Juniors looked set to wreck third place Devonshire's perfect record, but Devonshire hit back to win it with a Nicky Owen (right) stunner in the final minute. Cobden View gained their first home points of the season with victory over Norton Oaks B, while a Dimitri White treble helped Woodhouse Juniors to also record their first home win of the season against Crookes & District.
20 Nov - December Fixtures now listed - The fixtures for December are now shown in the Fixtures section. Home teams MUST make sure that their home pitch is available on all the dates shown. Please email Keith immediately if your pitch is not available on a date shown, BUT note that the Fixtures for 20 December could be subject to change due to Sunday Cup ties - it is not yet known if the Sunday Senior Cup Quarter Final ties will be scheduled for that date. All home clubs must also confirm the details with your opponents and referees for all dates shown IMMEDIATELY. Please email Keith immediately if any of the referees tell you they cannot do the fixture listed.
Due to United's home game on 13 December and Wednesday's home games on 6 & 20 December, we will support any teams that want to kick-off early on any date in December, but the home clubs must agree a time with their opponents and make sure that their pitch is available for an early kick-off, and make sure that the referee is also OK with an early kick-off. IF YOU ARE SHOWN WITH A GAME ON A DATE YOU HAD ASKED KEITH FOR NO GAME, YOU MUST NOTIFY KEITH IMMEDIATELY.
18 Nov - Colley Tavern on the look out for more players - Division One club Colley Tavern are looking for further players to boost their squad. Anyone interested should contact Neil Whitworth on 0775 799 0020 or by email: n.whit@hotmail.co.uk . They are an established club with good facilities, playing on the Chaucer School 3G pitch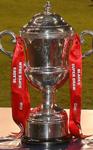 9-Nov 2015 - KITLOCKER CUP - Holders to entertain The Vine in the Quarter Finals - The draw for the League Kitlocker Cup quarter finals saw holders Oughtibridge WM get a home tie with fellow CBC Premier outfit The Vine, while another all-CBC Premier tie sees Stannington Village entertain Civil Service A. The other two ties see two of the Division Two newcomers both get home ties, with Penistone Church entertaining Redmires and Devonshire entertaining Wadsley Bridge Pheasant. Three ties are scheduled for 6 Dec, while the Penistone Church v Redmires tie is scheduled for 13 Dec. The home clubs playing on 6 Dec must make sure their pitches are booked for that date as there is no grid for that date. Penistone are already due to be at home on 13 December, but they should also make sure their pitch provider is aware they will be at home that date. The full draw is: KITLOCKER CUP ROUND 4 Sunday 6 Dec Devonshire v Wadsley Bridge Pheasant; Oughtibridge WM v The Vine; Stannington Village v Civil Service A Sunday 13 Dec Penistone Church v Redmires
10 Aug - Club Details Updated - The details for each club have now been updated on the website. All clubs should check them to confirm they are correct. a local Handsworth Woman Helen Fisher who I knew passed away from Cancer,her best friend Eve Garrett who's husband Mark played for Stocksbridge for many years decided to organise a charity walk in memory of Helen and to raise money for St Lukes where she spent time. Myself and all the players decided that we would donate all our subs money we collected from our senior cup game against Armthorpe and donate them to Eve's charity walk to help raise funds for St Lukes,some supporters also contributed and I had a signed Sheffield Wednesday ball we auctioned that FC Turf player Tom Smith ( who's a Blade) paid £50 for so a grand total of £150 was raised by us.
10 Aug - Fixture Grid Changes for the 2015-16 season - Following the withdrawal of Champs, Killamarsh Juniors has been moved to number 6 on the Division Two grid below is the amended Fixture Grid for the 2015-16 Season. THIS GRID SHOULD ONLY BE USED AS A GUIDE AS TO WHEN YOU WILL BE AT HOME AND WHEN YOU ARE AWAY as the fixtures are subject to change every month. EVEN IF IT SHOWS YOU PLAYING A BLANK NUMBER YOU MIGHT STILL HAVE A GAME THAT WEEK AS WE WILL ATTEMPT TO FILL IN THE GAPS. See September News to see the grid.
Click here for full detail of last Sunday's games and a preview of next weekend