19-Oct 2014 - CBC PREMIER - Danny's the Civil boy as leaders are beaten, while Angel fly at last - A Danny Fowler strike for Civil Service saw them take over at the top as they ended previous leaders Stannington Village unbeaten record. Also beaten was second place Bulls Head as Woodhouse Angel picked up their first points of the season, while third place Stocksbridge Park Steels dropped their first points of the season as two Scott Birch strikes only proved enough for a point at The Vine. Jon Wall hit a hat-trick as Redmires win big at Riverside, while Oughtibridge WM are now twenty nine unbeaten in the league after a narrow victory over Brinsworth Whitehill.
DIVISION 1 - Intake go top, while Super Mario helps Turf to second - Intake Old Boys took over top spot with a home win over Hare & Hounds and Handsworth Turf climed to second as Mario Esposito added to more to his collection in Turf's narrow victory at Loxley. Chris Roberts scored twice as Southey climbed to furth with victory at Aston Swallownest, while Ecclesfield Players Lounge and The Pheasant shared the points, as did Dam House Bar and Ranch after Ranch keeper Mark Broadhurst saved a penalty.
DIVISION 2 - Howsham four Hallam, while Phoenix held and concede a goal for first time – Joe Howsham hit four as Hallam kept top spot with a big win over Crookes & District and City Taxis are up to second after a Tom Stubbs double helped them to victory over Laycock Sports. Phoenix conceded a goal for the first time this season and dropped their first points with a draw with Fox & Hounds Rangers, while Cobden View claimed their first points of the season with a narrow victory over Colley. Liam Gibson struck twice as Chapeltown took the points at Shaarrow Vale and Blake Owen also scored two as Steelers beat Norton Oaks B.
18-Oct 2014 - County FA Sunday Cup Draws - SENIOR SUNDAY CUP Ashfield v The Vine; Cawthorne v Stannington Village; Civil Service v Bridge Athletic; Redmires v Bullcroft Sports & Pastimes; Riverside v Westville; Woodhouse Angel v Hoyland Common JUNIOR SUNDAY CUP Bessacar v Phoenix; Hallam FC v Ranch; Handsworth Turf v Clogg Thurnscoe; Intake OB v Dam House Bar; Inter Kilton or Langold v Fox & Hounds Rangers; Loxley v Town or Fitzwilliam Arms; The Pheasant v Crown Scissett; White Hart v City Taxis; Woodhouse JFC v Norton Oaks A. All ties to be played on Sunday 26 October.
14-Oct 2014 - Fixture changes for 26 October & November fixtures - After discounting the teams that are still in the County FA Cups, the revised League fixtures for 26 October are now shown in the Fixtures section, but please note that some of them could still be subject to change after the County FA Cup draws have been made. Referees will be allocated to these revised League fixtures as and when the County FA release them to the league. Home clubs should contact your opponents to confirm that they have seen these revised fixtures.
The fixtures for November are also shown and home clubs must make sure that their pitch is available on the dates shown, although fixtures on 16 November will be subject to change due to County FA Cup ties, but this won't be known until after 26 October. Referees for November fixtures will be added later after they have been allocated by the County FA.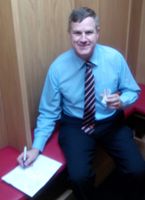 7 October 2014 - KITLOCKER CUP - Will the holders be Turf-ed out ? - The draw for Round 3 of the League Kitlocker Cup, drawn in the Referees room at Bramall Lane by Blades Super Draw Promotions' Pete Stone (right) saw the holders Redmires drawn away at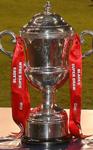 former holders Handsworth Turf. There are two all-CBC Premier ties with Brinsworth Whitehill entertaining Civil Service and Oughtibridge Village entertain neighbours Riverside, There is certain to be a Division Two side in the quarter final as Hallam FC entertain fellow League newcomers Fox & Hounds Rangers and there is certain to be at least one Division One team through from Norton Oaks A's visit to Ranch. Potential shocks could come from Stannington Village's visit to Division One Aston Swallownest, The Vine's visit to Southey Social and Bulls Head's home tie with Intake Old Boys. Six ties will be on 2 November and two will be a week later on 9 November. The full draw is:
2 Nov: Aston Swallownest v Stannington Village; Brinsworth Whitehill v Civil Service; Bulls Head v Intake Old Boys; Hallam FC v Fox & Hounds Rangers; Handsworth Turf v Redmires; Oughtibridge WM v Riverside 9 Nov: Ranch v Norton Oaks 'A'; Southey Social v The Vine
30 September 2014 - Fixtures for October now shown - All the fixtures for October are now shown, but please bear in mind that fixtures for 26 October will be subject to many changes due to the County FA Cups. All home clubs should contact their referees and opponents immediately to confirm the details of their games. Referees for 12 & 26 October will not be shown for any league games until they are released by the County FA
22-Sept 2014 - County FA new phone number - The Sheffield & Hallamshire County FA now has a new phone number - 0114 261 5500