4 DEC - Change of email address for Cadbury FC - The Cadbury FC secretary, Daniel Robertson now has a new email address - daniel.robertson@mdlz.com

.

The Clubs directory on the website has been amended.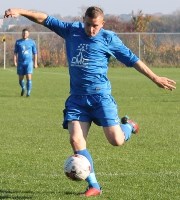 4 DEC - LEAGUE TWENTYTWO CUP - Division One rules as Holders and Angel go out, but Oaks go through, while Redmires are Turfed out - Holders Wadsley Bridge Pheasant lost their grip on the League Twentytwo Cup as two Nicky Owen (left) strikes helped Division One Woodseats Club knock them out. Division One Penistone Church made it to a second successive semi final as two Lewis Dickenson strikes helped them put out CBC Premier Woodhouse Angel. The only Division One club to fall was Killamarsh Juniors as two Jamie Marshall strikes helped CBC Premier Norton Oaks A come from behind to go through. The all-CBC Premier tie at Redmires ended all square and it was visitors FC Handsworth Turf that went through after a penalty shoot-out.
CBC PREMIER - Brinsworth double - Both Brinsworth Phoenix abd Brinsworth Whitehill recorded home wins over Civil Sports A and Hallam.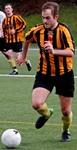 DIV 1 - Oughtibridge WM extend their lead at the top, while Southey pull clear of danger - Doubles by Danny Clinton and Charlie Tunnard (right) helped Oughtibridge WM extend their lead at the top of Division One to five points with victory over Ecclesfield Players Lounge, while Whitney and Theaker doubles helped Southey Social to victory over Dale WMC and further clear of the relegation zone. Chapeltown RBL's promotion bid took a blow when they were held by AFC George.
DIV 2 - Top Three all win, while Shakey climbs off the bottom - Leaders Cobden View beat Woodseats Chantrey, second place Norton Sportsman overcame Norton Oaks B and third place Woodhouse Village won at Crookes & District to open up a four point gap below them. Fifth place Civil Sports B improved their chances with a home win over Woodhouse Juniors, while Shakey climbed off the foot of the table and out of the bottom three with a first home win of the season over Cadbury.
25 NOV - December Fixtures now listed - The Fixtures for December are now listed in the Fixtures section. Fixtures on 18 December could change dependent on whether or not Redmires is able to play their Sunday Senior Cup tie and whether Penistone Church and Woodseats Club are able to play their Sunday Junior Cup ties.
All home teams MUST make sure that their home pitch is available on all the dates shown. Please email Keith immediately if your pitch is not available on a date shown.
All home clubs must also confirm the details with your referees and opponents for all dates shown IMMEDIATELY. The home clubs should later (the Tuesday before the game) ring the referee to make sure the referee has got all the details. Please email Keith immediately if any of the referees tell you they cannot do the fixture listed.
Matches without referees must still go ahead and, if you have not been allocated a referee by the date of the game, the two clubs must agree on a stand-in 'referee' between them. Keith will still be working to gain more referees, so if you find one yourself, will you let Keith know immediately please.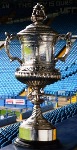 21 NOV - Sunday Cups Quarter Final draws - The County FA Sunday Cups Quarter Final draws have been made and in the Senior Cup our three remaining teams have avoided each other. Redmires reward for beating the holders is a home tie against opponents yet to be decided, but include last season's beaten finalists, the current Rotherham Sunday League leaders, Fitzwilliam Arms. The other two are both away, with Stannington Village travelling to Anston Leeds Arms of the Rotherham Sunday League, and Norton Oaks A travelling to Meadowhall Premier outfit High Noon.
The full draw for the Sunday Senior Cup is: REDMIRES v Winner of tie 64 (Balby Athletic or Forum FCCO v Fitzwilliam Arms); Anston Leeds Arms v STANNINGTON VILLAGE; High Noon v NORTON OAKS 'A'; Joker v Royal Earl. All the ties are scheduled for Sunday 18 December, although Redmires tie is likely to be delayed until after that date.
The Sunday Junior Cup has one definite all-Blades Super Draw Quarter Final between Division One rivals Chapeltown RBL and Dale WMC and there could be another all Division One tie if Penistone Chucrh win their delayed Round 4 tie as they will entertain Woodseats Club. Ecclesfield Players Lounge have a home tie against Maltby Rangers or Wath Tel-Star.
The full draw for the Sunday Junior Cup is: ECCLESFIELD PLAYERS LOUNGE v Winner of tie 90 (Maltby Rangers v Wath Tel-Star); Winner of tie 91 ((Millmoor Juniors v Maltby Stute or Don John Mens) v PENISTONE CHURCH) v WOODSEATS CLUB; Swinton Robin Hood v Brinsworth Whitehill U21; CHAPELTOWN RBL v DALE WMC. All the ties are scheduled for Sunday 18 December, although the potential Penistone Church v Woodseats tie is very likely to be delayed until after that date.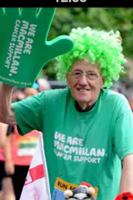 7 NOV - Turf to hold a "Pay your subs to John" day on 20 November - CBC Premier leaders FC Handsworth Turf is well known for its charitable efforts and they are again putting their money where their mouth is by holding a "Pay your subs to John" day on 20 November. All their subs collected on the day and any other monies they can get from supporters, sponsors, friends, other grassroots players will be donated to Sheffield Legend John Burkhill (right) in his quest to raise as much money as possible for Macmillan. John lives in Richmond Park, Handsworth and we would like to show him our support for what he does. Update on 20 November - £220 raised towards Macmillan for John Burkhill, hoping to have a picture with John Himself, big thank you to Wadsley Bridge Pheasant who contributed £20 to our total,will let you know the full total.
6 OCT - Shakey on the look out for more players - The Shakey is on the look out for more players. They have a good set-up at the Caribbean Sports Ground and good backroom staff. Anyone interested should contact the Shakey secretary Jimmy Collins on 07926400719.
Click here for full detail of last Sunday's games and a preview of next weekend