3 September 2014 - Referees for all September now shown - The County FA has now released the referee allocations for all September and the referees allocated to our games are now shown in the Fixtures section. ALL HOME CLUBS SHOULD IMMEDIATELY CONFIRM THEIR GAMES WITH THE REFEREES FOR THE COMPLETE MONTH. Let Keith know if any referees are not available for the dates listed.

31 August 2014 - DIVISION 1 - Reet good start for Norton, while Aston and Ranch take a point each - A first half Danny Reet (left) double set Norton Oaks 'A' on their way to an impressive start against Loxley, while a late Oliver Whittaker goal left Aston Swallownest and Ranch all square.
DIVISION 1 - Oaks Culled by Phoenix, while City Taxis Stubbs out View - A Kieran Cull double helped Phoenix got off to a flying start at Norton Oaks 'B', while a Tom Stubbs double helped City Taxis start their life in the League off by coming from behind to beat Cobden View.
27 August 2014 - County FA Taylor&Emmet Sunday Cup draws made - The draws for the County FA Taylor&Emmet Sunday Cups have been made and as reported at our League meeting, the County FA have given the Senior and Junior Cups separate dates. The Sunday Senior Cup 1st Round is on 14 September, but there are no changes to our fixtures as all our CBC Premier teams have received byes. The Sunday Junior Cup 1st Round is on 21 September when all but two Division 1 teams and four Division 2 teams will all be involved. Holders The Pheasant start their defence away at Castle Inn, while last season's beaten finalists Southey Social are also away at Red Lion Bombers.
All the games involving Blades Super Draw League teams the Sunday Junior Cup Round 1 on 21 September is: Aston Swallownest v Wadsley Jack; Castle Inn v The Pheasant; Crookes & District v New Bohemians (Second); Dam House Bar v The Royal; FC Handsworth Turf v Ecclesfield Red Rose; Fox & Hounds Rangers v Sheffield Sportsman; Hare & Hounds v Norton Oaks B; Hollybush v Cobden View; Jaunty Park v Sharrow Vale; Mosborough (U21) v Chapeltown RBL; New Barrack Tavern v Loxley; Norton Oaks A v Athletico Forum; Ranch v Ecclesfield Red Rose U21; Red Lion Bombers v Southey Social; Steelers v Brinsworth Phoenix.
As regards the Leagues games, there are no changes to any games on 14 September, while on 21 September the CBC Premier games are unchanged, but It leaves just one re-arranged game in Division 1 and one re-arranged game in Division 2: DIVISION 1: Ecclesfield PL v Intake Old Boys DIVISION 2: Hallam FC v Laycock Sports. All the changes are now reflected in our Fixtures section.
27 August 2014 - Riverside has new secretary and are looking for more players - CBC Premier club, Riverside, now has a new secretary - John Heritage, Mobile 0758 400 5958 email: jheritage@actemium.co.uk. They are also on the look out for further players, so if you are interested, please contact John.

25 August 2014 - Blades Super Draw League again honoured by The FA - The Blades Super Draw League's hard work towards the aims of The FA's Respect campaign over many years has again been recognised with a second award in three years by The FA. Following on from a Bronze Award three years ago, the League has received a Commended Award for its work last season. It's a great honour to be recognised in this way and it recognises the hard work the League continues to do to make its games enjoyable for all concerned.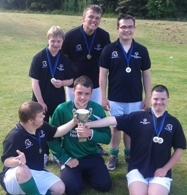 25 August 2014 - Handsworth Old Boys and Hemsworth Villa both fold - The League regrets to announce that CBC Premier side Handsworth Old Boys and Division One side Hemsworth Villa have both folded. This means that eleven teams will now contest both the CBC Premier Division and Division One and just two teams will be relegated from each of them at the end of the season.
23 August 2014 - Spartans victorious summer - The Spartans rounded off a full summer programme by completing their first ever tournament win. They started at Cleethorpes which was then followed by an overnight visit to Leeds. June saw them host their own tournament at the Goodwin Sports Centre and then in July at Harrogate came that historic first tournament win since their formation in 2009. The Spartans are pictured right with that first ever winners trophy. For more detail and pictures click on the Spartans icon above.
21 August 2014 - STEVE GEE MERIT CUP FINAL - Aston Swallownest to face Brinsworth Whitehill in Merit Final at Stocksbridge - The excellent disciplinary and sporting records of Aston Swallownest and Brinsworth Whitehill has seen them rewarded with an appearance in the Steve Gee Merit Cup Final at the Stocksbridge Park Steels stadium on Thursday 18 September. The kick-off is 7:15 and entrance is free to all.
It is a reward for both sides continued efforts to play the game in the right manner. After having just two cautions in the 2012-13 season, Aston went one better last season by having just one caution all season, while Brinsworth Whitehill had just five cautions for a second successive season. Both achieved the highest average score of 46/50 for their Sporting Awards from the other League clubs in 2013-14.
21 August 2014 - Fixtures for 31 August and September now shown - All the fixtures for 31 August and all of September are now shown, but please bear in mind that fixtures for 14 September & 21 September could be subject to many changes due to the County FA Cups. Referees are shown for 31 August, 4 September and 7 September only, while the referees for the rest of the month will be published when they are released by the County FA.
18 July 2014 - Teams looking for more players - Division One Southey Social has vacancies for players for the new season. They will be training every Sunday morning at 11am throughout the summer at Parson Cross Park, whilst their home pitch next season will be Concord Sports Centre 3G. Anyone interested can contact Mark Guest on 0788 367 2906 (email: cacktusjack2702@hotmail.com) or Rob Womack on 07595996461 (email: robsville85@hotmail.com)
Division Two Crookes & District also has vacancies for players for the new season. If you want more detail please contact Michael Cottyn on 0788 319 3123 (email: michael.cottyn@btinternet.com)