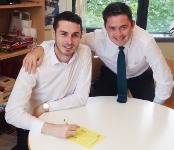 4- Sep - BREAKING NEWS – Devonshire beat off other interest to sign Wareham - Newcomers to the League, The Devonshire, showed their intent to have a successful season by making a last-gasp signing before the season starts when they beat off other interest to sign Joe Wareham, back in the UK after a spell in USA. Wareham, an experienced full back was brought to the club by Head Scout Callum Flanagan who said this about his latest recruit. "Joe is an excellent acquisition with experience of playing at the highest level and will add much needed energy to an aging backline." Both Flanagan (pictured on the right) and Wareham (left) are looking forward to the new season with Flanagan adding "promotion is the only option".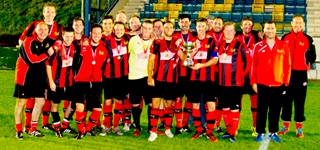 3- Sep - STEVE GEE MERIT CUP FINAL – Debuts are a dream as Stannington take the Cup - It was dream debuts all round as Danny Smith, Alex Torr and Adam Todd all scored in their first competitive game for League Champions Stannington Village, as they got the season underway by lifting the Blades Super Draw League Steve Gee Merit Cup with victory over last season's Sunday Junior Cup winners FC Handsworth Turf.
2 Sep - County FA Sunday Junior Cup draw for 20 September - The County FA have made the Junior Sunday Cup Round 1 draw and it has brought one all-Blades Super Draw tie with Division One Brinsworth Phoenix entertaining Division Two Steelers. Last season's quarter finalists Hallam start their campaign with a visit to Swallownest Miners Welfare, while City Taxis, who reached Round 5 last season travel to 2015 Spartans.
The full draw for our teams is: SUNDAY JUNIOR CUP ROUND 1: Aston Swallownest v Bolsover Town; Sheffield United Junior Blades v Chapeltown RBL; Cobden View v Longley Ravens; Wadsley v Loxley F.C.; Norton Oaks FC v Angel Grenoside; Foxwood v Ecclesfield Players Lounge; 2015 Spartans v City Taxis; Brinsworth Phoenix v Steelers; Hare & Hounds v Terminus Tavern; Penistone Church v Bagshawe Arms; Swallownest Miners Welfare v Hallam
1 Sep - Fixture change in Division 2 - There has been a change of fixture in Division 2 for the opening day of the season after AFC George were granted permission to not play following the shock death of one of their supporters. They were due to entertain Killamarsh Juniors, who will now visit Penistone Church instead after they agreed to the switch.
1 Sep - County FA Sunday Senior Cup draw for 20 September - The County FA have made the Senior Sunday Cup Round 1 draw and last season's semi finalists Redmires start with a home tie against fellow Blades Super Draw League Norton Oaks A. Woodhouse Angel have a tough looking tie at Meadowhall Champions Crookes, while Stannington Village start with a home tie against Arbourthorne EA. Last season's Sunday Junior Cup winners FC Handsworth Turf start their quest for the Senior Cup with a local derby at home against Handsworth Inn.
The full draw for our teams is: SENIOR SUNDAY CUP ROUND 1: Crookes v Woodhouse Angel; Stannington Village v Arbourthorne EA; FC Handsworth Turf v Handsworth Inn; Wadsley Bridge Pheasant v Mosborough; Brinsworth Whitehill v Gypsy Queen; Royal Earl v Bulls Head; Jack in Box v The Vine; Oughtibridge War Memorial v Hurlfield Punchbowl; Redmires v Norton Oaks A. All ties to be played on Sunday 20 September.
Hopefully, the Sunday Junior Cup draw will be available tomorrow.
31 Aug - Merit Cup Final on Thursday 3 September - This season's Steve Gee Merit Cup Final sees League Champions Stannington Village face last season's Division One Champions and County FA Sunday Junior Cup winners Handsworth Turf at Stocksbridge Park Steels stadium this Thursday, 3 September. Turf's double triumph was all the more spectacular as they picked up just six cautions on their way to both trophies - a phenomenal achievement these days. Stannington Village have always shown how a good club should be run and behave and last season's title meant they had finished in the top two for seven consecutive seasons. They were also runners-up in the Kitlocker Cup Final at Bramall Lane. The game kicks-off at 7:00pm and entrance is free to everyone.
31 Aug - The season starts this weekend - This Sunday see the start of the League and Kitlocker Cup competitions. The pick of the CBC Premier games sees Champions Stannington Village entertain a Woodhouse Angel that finished third last season. In Division One, last season's Division Two champions Phoenix start with a home game against Hare & Hounds. Two of the seven new clubs meet in Division Two with AFC George entertaining Killamarsh Juniors. In Round 1 of the Kitlocker Cup, newcomers Devonshire start with a visit to Norton Oaks 'B'. A full preview can be found in Latest News. The full first day's fixtures are below:
CBC PREMIER Civil Service A v The Vine Handsworth Turf v Norton Oaks "A"; Stannington Village v Woodhouse Angel; Southey Social v Redmires; Wadsley Bridge Pheasant v Oughtibridge WM DIVISION 1 Chapeltown RBL v Aston Swallownest; Colley Tavern v Ranch; Intake OB v Loxley; Phoenix v Hare & Hounds DIVISION 2 AFC George v Killamarsh Juniors; Laycock Sports v Cobden View KITLOCKER CUP Norton Oaks 'B' v Devonshire; Top Club v Crookes & Dist; Woodhouse JFC v Steelers

31 Aug - Football loses a stalwart - The League was sorry to hear that Albert Dodds, father of Oughtibridge WM's Matt Dodds, had passed away. Albert (pictured right) was a popular man and manager throughout local football for many years. More recently he concentrated on watching his son Matt play for Oughtibridge on Sundays and was quick to buy their manager Dave Hudson a pint when they won, but quick to also tell him when they were rubbish. Everyone connected with Oughtibridge and the League would like to pass on their condolences to Albert's family and friends. A true gent - RIP Albert Dodd.
29 Aug - September Fixtures and Referees listed - The Fixtures and Referees for 6, 13 & 27 SEPTEMBER are now shown in the Fixtures section of the website - Home teams MUST make sure that their home pitch is available on all the dates shown. Please email Keith immediately if your pitch is not available on a date shown. All home clubs must also confirm the details with your opponents and referees for all dates shown IMMEDIATELY. Please email Keith immediately if any of the referees tell you they cannot do the fixture listed.
Fixtures for 20 September cannot be finalised yet as that is a scheduled Sunday Cup date and the draw for it has yet to be made
NOTE FOR REFEREES: We would ask referees to let Keith know if they are not available for any of the dates shown. Because of the terrific response the Blades Super Draw League has had from referees wanting to referee games in the League, we regret we may not be able to give every referee a game every week. If we have been unable to give you a game on a particular week you have agreed to do games for us, we will pass your details to another Sunday League who will hopefully be able to give you a game.
12 Aug - Pitch available at Civil Service - Following the resignation of Fox & Hounds Rangers there is now a pitch for hire at the Civil Service Sports Ground, Green Lane, Ecclesfield. Any club interested should contact Richard Smith on 07577473042.
12 Aug - Fox & Hounds Resign - Fox & Hounds Rangers have decided to resign. It will mean that at the moment, Division 1 will have eleven clubs.
10 Aug - Club Details Updated - The details for each club have now been updated on the website. All clubs should check them to confirm they are correct.
10 Aug - Fixture Grid Changes for the 2015-16 season - Following the withdrawal of Champs, Killamarsh Juniors has been moved to number 6 on the Division Two grid below is the amended Fixture Grid for the 2015-16 Season. THIS GRID SHOULD ONLY BE USED AS A GUIDE AS TO WHEN YOU WILL BE AT HOME AND WHEN YOU ARE AWAY as the fixtures are subject to change every month. EVEN IF IT SHOWS YOU PLAYING A BLANK NUMBER YOU MIGHT STILL HAVE A GAME THAT WEEK AS WE WILL ATTEMPT TO FILL IN THE GAPS.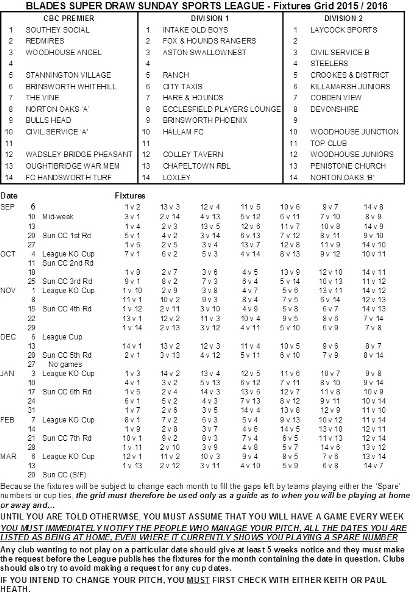 18 May - Clubs can now affiliate with the County FA for the 2015-16 season - From Monday 18 May evening, clubs who were registered for the 2014/15 season will be able to affiliate online for the forthcoming 2015/2016 season using the Whole Game System. Whole Game System can now be used by Club Secretaries to affiliate their club, removing the need to work through the paper based process in order to complete affiliation. Click on the following link for more detail and help with the process: http://www.sheffieldfa.com/news/2015/may/club-affiliations-are-now-available-for-next-season#JAkDykfz3tDu2zeI.99.
18 May - Fancy becoming a Referee? - Anyone interested in becoming a referee can now register their interest with the County FA. There are Basic Referees courses available at Barnsley College on 8 June, 10 August and 12 October and at Gosforth Playing Fields, Dronfield on 8 July. More details can be found in the Courses section of the Sheffield & Hallamshire County FA website, www.sheffieldfa.com.
22-Sept 2014 - County FA new phone number - The Sheffield & Hallamshire County FA now has a new phone number - 0114 261 5500
Click here for full detail of last Sunday's games and a preview of next weekend