29 July 2014 - Ranch need a new keeper - Division One side Ranch are on the lookout for a new goalkeeper after their keeper became unavailable due to a new job. Will any goalkeepers interested please contact Ranch's secretary Steve Batty on 0773 953 5624, or by email to Stephen.batty@keepmoat.com.
22 July 2014 - Club details updated - The detail for all our clubs has been updated with the information supplied by them and can be found in the CLUBS section. Will all clubs check them and confirm they are correct, or send any amendments, by email to keithsssl@aol.com please
18 July 2014 - Important notes about pre-season friendly games - If any club intends to play a pre-season friendly against another club affiliated to play on Saturdays, or midweek, you must first gain permission from the Sheffield & Hallamshire County FA before playing the game.
If you are playing a club that is affiliated to play on Sundays you do not need to gain permission from the County FA, but you must make sure they have affiliated to the County FA.
Also, please make sure that any triallist you have playing for you is not currently under any suspensions by the FA.
If you do not follow these procedures and someone gets injured etc, it is likely that any insurance you have will become invalid.
18 July 2014 - Teams looking for more players - Division One Southey Social has vacancies for players for the new season. They will be training every Sunday morning at 11am throughout the summer at Parson Cross Park, whilst their home pitch next season will be Concord Sports Centre 3G. Anyone interested can contact Mark Guest on 0788 367 2906 (email: cacktusjack2702@hotmail.com) or Rob Womack on 07595996461 (email: robsville85@hotmail.com)
Division Two Crookes & District also has vacancies for players for the new season. If you want more detail please contact Michael Cottyn on 0788 319 3123 (email: michael.cottyn@btinternet.com)
12 July 2014 - 2014-15 Fixture Grid published - The Fixture grid for the 2014-15 season is now published - see Latest News for full details and notes that need to be taken into account alongside the grid:
7 July 2014 - Four clubs join the League - At the recent AGM four clubs were introduced to, and accepted by, our existing clubs. The four are City Taxis, from the Meadowhall League, Fox & Hounds Rangers, from the Sunday Imperial League, the re-formed Laycock Sports having last played in the Blades Super Draw a couple of years ago, and the fourth is Hallam FC after the world's second oldest club decided to have a Sunday side for the first time in its long history. Hallam will also have former England and Owls star Chris Waddle as their player-manager. All four clubs bring yet more good facilities to the League.
2 June - Special rate pitch hire for friendlies for Blades Super Draw teams - Finding a suitable pitch over the summer period is often difficult. We have therefore teamed up with The University of Sheffield to provide Blades Super Draw teams with a top quality pitch to play summer friendlies and pre-season fixtures at Goodwin Sports Centre. All matches will be played on a 3G (rubber crumb) pitch with a range of evening and weekend slots available, with discounts for Blades Super Draw teams This is a great opportunity to keep ticking over during the summer or to prepare for the 2014/15 season. If you would like to book a pitch or require further information please feel free to contact Scott at Goodwin Sports Centre on 2226955 or s.tyler@sheffield.ac.uk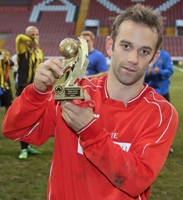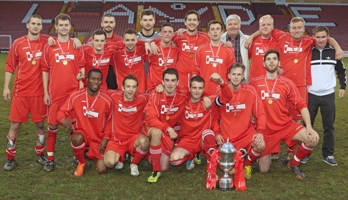 14 May - MACRON CUP FINAL - Redmires Knagg their way to Bramall Lane Final victory - In front of a crowd of over 700, Redmires lifted the Macron Cup at Bramall Lane for the first time in club history as a first half goal from the Kitlocker Man of the Match Dave Knaggs (left) and a second half strike from Mikey Taylor gave them a 2-0 victory over fellow CBC Premier side The Park.
After a slow it was The Park that went closest to opening the scoring when Mark Townsend's free kick was met by Nick Galloway and his header was deflected onto a post. From the resulting corner Galloway had another half chance, but the Redmires defence managed to clear. Redmires then started to look the more threatening, with Knaggs' pace causing The Park's defence problems and when Dale White played a ball to him in the corner of the penalty area, Knaggs just beat The Park keeper Sam Kirk to the ball to hook it over him into the net to give Redmires the lead.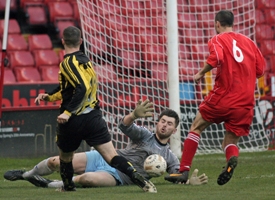 Matt Reay and James Kirkham looking really solid at the heart of the Redmires defence, and Redmires keeper, Matt's brother, Dave Reay, commanding his area The Park were generally restricted to long range efforts. When The Park did get through they were denied first by the woodwork and then Dave Reay made two crucial saves in the second half to keep The Park at bay. The first came from a Calvin Thomas header from a corner that looked certain to be finding the bottom corner until Reay somehow got a hand to it to turn it round the post and later Raey got down low to block a Mark Townsend shot (pictured left).
The action switched back to the other end and after some good work by Jon Wall, Knaggs almost scored a second, but his effort skimmed the top of the bar. The Park's man of the match Nick Galloway produced two terrific last ditch tackles to stop Knaggs and Wall extending Redmires lead and keeper Kirk also did well to block another Knaggs effort after he had outpaced The Park's defence. A clincher did eventually come Redmires way when Knaggs beat Josh Ransom down the left and although he was brought down on the edge of the area, the ball broke for Taylor to take it past Kirk and slot home from ten yards. After the final whistle the Blades Super Draw promotions Manager Mick Rooker presented Knaggs with his Kitlocker Man of the Match Award and the Macron Cup to Redmires skipper Scott Smith, together with club captain Chris Cotterill. See Latest News for more detail and pictures from the game.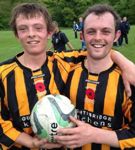 11 May - DIV 1 -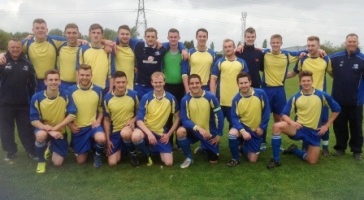 Last gasp Brinsworth are promoted, while Ball are slaughtered by Lamb & Sampson - After being two down at half time Brinsworth Whitehill (left) fought back and a last minute Danny Willis goal gave them the point they needed to pip Norton Oaks to the final promotion place. New Division One champions Oughtibridge WM completed their season unbeaten as Strachan Sampson and Aaron Lamb (right) both hit hat-tricks as they thrashed the new Division One Runners-up Old Blue Ball.
DIV 2 - Fifty up for Carl Andrews as a double hat-trick lands him the League's Twentytwo Leading Scorer Golden Boot Award - Carl Andrews (right) hit a double hat-trick as The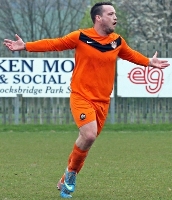 Pheasant completed their season by thrashing FC Spartak. Those six goals took his League tally to thirty one and landed him the Twentytwo Leading Scorer Golden Boot Award. It also took his tally for the season in all competitions to fifty.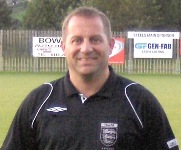 6 May - MACRON CUP - Macron Cup Final officials - The League is pleased to announce that the referee for next week's Macron Cup Final between The Park and Redmires, at Bramall Lane, is Paul Cooper (pictured left). Paul was due to referee last season's final, but unfortunately picked up an injury just prior to the game and couldn't do it, so it will be fingers crossed that he stays fit this year. His assistants will be Jack Hall and James Gelder, while the fourth official will be Paul Matthewson. The game kicks-off at 7pm and admission is £5 for adults and free for accompanied children under 16.