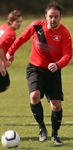 21 APR - CBC PREMIER - Redmires take the Runners-Up spot after Stannington slip - The final game of the CBC Premier season saw Stannington Village miss the chance to snatch the Runners-up spot away from Redmires when they allowed Handsworth Old Crown to come from behind to win 3-1 and gain only their second away win of the season. It meant that six time champions Stannington finished outside the top two for the first time in eleven seasons. It started very well for Stannington when a Joe Barker cross found Shaun Flynn who volleyed home. They looked certain to double it at the start of the second half when Flynn set up Charlie Hobson, but he missed from six yards and from that point it was Handsworth that took charge. Veteran Russ Hobson (left) grabbed their equaliser and with Stannington going all out for the winner they needed, they were caught out by a quick break that was finished off by Tyrone Wilson. Stannington continued to press without causing too many concerns for the Crown defence and the win for Crown was assured in the final minute when they were awarded a penalty, confidently tucked away by their leading scorer Liam Greenfield.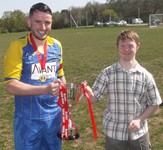 21 APR - DIVISION 1 - Earl take the title - Royal Earl just hung on to the point they needed with a 1-1 draw against Civil Sports A to take the Division One title on goal difference from runners-up Forum. Despite taking a first half lead through Sam Fewkes, Earl struggled to break down a solid Civil defence and in the second half it was Civil that looked to have the greater threat and they got a deserved equaliser when a cross was flicked on for Jake Thompson to float in at the back post and push the ball into an empty net. Civil keeper Scott Paynter then made the save of the game to stop Earl going back in front, but after that it was Civil that looked the more likely to get a winner. Earl held on though to pip their League Twentytwo Cup Final opponents Forum to the title on goal difference. Pictured right is Earl skipper Callum Westney receiving the trophy from Paul of the Spartans.
21 APR - DIVISION 2 - Boynton celebrate, whilst Shakey climb out of the bottom three - New champions Boynton Sports celebrated taking the title with their 18th win of the season 7-0 at home against bottom club Cadbury. Marcus Gordon took just two minutes to open the scoring when he connected with a Ross Thompson cross. Within ten minutes a solo goal by Lee Jordan made it two, before a sweeping long ball from David Nash was finished off by Oliver Mathewson for the third. Marc Peacock hammered home number four from all of 40 yards, before a deft pass from Marcus Gordon set up Ross Thompson for the fifth. Gordon was again the provider for Jordan to score his second to make it 6-0 by half time. Understandably, Boynton eased off in the second half, but Peacock completed the scoring with a close range. It was a fitting end for both Josh Jones and David Nash who played their final games before retirement.
Shakey's last game of the season saw them miss the chance to climb out of the bottom three when they suffered a 4-0 home defeat by a Woodhouse Juniors that will now finish in their highest ever fifth position in Division Two. It took just ten minutes for Leon Cheslett to get things going when he took advantage of a defensive mix-up to round the keeper and score. Jack Maples quickly doubled the lead with a curling effort into the top corner from just inside the box. Matthew Cooper added a third before half time with a thunderous strike into the top corner from the edge of the area. Cheslett completed the scoring midway through the second half with a deft finish that wrong footed the keeper.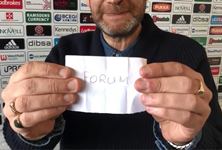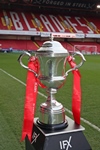 13 APR - TWENTYTWO CUP - Forum set for the home dressing room - The Sheffield Star's Blades reporter James Shield made the draw to see would occupy the home dressing room when the League stages it's twentytwo Cup Final at Bramall Lane and it was Forum's name that came out of the hat. The date for the final is not yet known, but will be advertised here as soon as it is known.
8 APR - The FA Grassroots Football Awards 2019 - The FA Grassroots Football Awards 2019 The FA and McDonaldís Grassroots Football Awards 2019 are now open for nominations. The nomination window will be open until 10th May. There are 10 categories available for individuals to nominate.
If there is anyone within your club, or the League, that you think should be nominated please click the following link http://www.sheffieldfa.com/news/2019/apr/08/the-fa-and-mcdonalds-grassroots-football-awards-are-back
29 MARCH - Sin Bin Training - Please see below, detail of Sin Bin training courses to be run by the County FA, including one at Ice Sheffield next Wednesday 3 April. You have to book a place in order to attend and we strongly recommend that you get someone from your club to attend.
SENT TO ALL LEAGUES & DISTRICT FAís The County FA has now finalised a list of workshops which are available to support peoplesí knowledge around Temporary Dismissals (sin bins) which is coming into effect from the 2019-20 season for all grassroots football (this includes mini-soccer and youth football, menís football (from Step 5 and below) and womenís football (Step level TBC).
Attendance at workshops is via registration only, through the relevant booking link on the County FA website - http://www.sheffieldfa.com/news/2019/mar/20/sin-bin-workshops They do not plan on running additional workshops but will have a recorded presentation available for anyone who is unable to attend a workshop. Should you have any questions about any of the above information, please donít hesitate to get in touch.
22 MARCH - Fixtures and Referees for APRIL 2019 now added - The Fixtures and Referees for APRIL have now been added to the website. Home clubs should contact their opponents and Referees where shown ASAP.